Crazy Fast
Season 1, Episode 1

Vital statistics

Air date
December 24, 2013
Written by
Jack Thomas & Eric Trueheart
Directed by
Chris Prynoski

Episode guide

Previous
Next
None
Dungball Derby
Crazy Fast is the first episode in Season 1 of Turbo: F.A.S.T., and the first overall episode of the series.
Summary
Turbo must become a hero by saving the city from a menacing tiger beetle, named "Hardcase", who has challenged him to a race on a insane, stunt-filled obstacle course.
Plot
Turbo and Tito return from their race tour, and the latter gets berated by Kim-Ly for not bringing her along. After calming Kim-Ly down with a candy bar, Tito surprises Turbo with his new home: Starlight City; a city specially made for Turbo and all other snails. Tito takes Turbo to Chet, who was eating a tomato and gets some on his mouth. Tito; still thinking Chet's a girl, says Turbo's "girlfriend" got "all dolled-up" for him, much to Chet's annoyance. After Tito leaves them alone, Turbo offers his brother a slug-hug, with the latter declining, not wanting to pick-up whatever "snail diseases" Turbo might have picked up during his tour. Chet tells his younger brother he has a surprise for him, and Turbo guesses it to be his very own race track (on his first try). Everyone welcomes Turbo for his homecoming race, including his fellow racers and friends; Whiplash, Burn, White Shadow, Smoove Move and Skidmark. He is welocmed by his friends and they explain to him how they "modified, customized, and snail-afied it" the track.
The group prepare to race; Whiplash is about to inform Turbo about something, the the latter doesn't want the surprise ruined.
Characters
Featured Characters
Character Debuts
Minor Characters
Villains
Quotes
Whiplash: Call a doctor. You're all about to get a serious cause of Whiplash!
Burn: Stand back, or you might get Burned!
Smoove Move: You best Smoove out the way!
Skidmark: I'M CRAZY FAST!
Whiplash: Welcome back, Garden Snail.
Burn: Glad to have you back. Now maybe Chet won't cry himself to sleep every night.
Chet: (embarrassed) Boo!
Burn: I'm kidding. Just some nights.
Turbo: I can't believe we got our own track!
Whiplash: Oh, you best believe it! Tito laid down the basics, but we made it our own.
Skidmark: We modified it.
Burn: Customized it.
Smoove Move: And snail-afied it, ya dig?
Trivia
This episode marks the beginning of Turbo and Hardcase's rivalry.
This is the first appearance of Starlight City.
Gallery
Gallery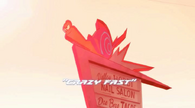 Click here to view this page's gallery.
Community content is available under
CC-BY-SA
unless otherwise noted.